KISS KISS[1] is a LADIES' CODE single.
The song and its music video were released on August 7th, 2014.[2]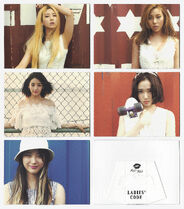 The physical album includes a photobook, the CD containing the song and its instrumental version, and a random photocard; any of the individual members.
Mwave also sold signed copies of the album that included a limited edition slogan. They also gave away special badge buttons and signed posters to randomly selected fans during a livestream on August 21st, 2014.[3]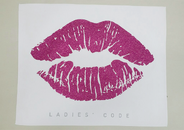 The KISS KISS slogan was also planned to be sold for a limited time on the LADIES' CODE Daum Cafe after promotions ended, like with Pretty Pretty and So Wonderful, but that never happened.[4]
Tracklist
KISS KISS (Inst.)
Gallery
→ see KISS KISS/Gallery
References
Ad blocker interference detected!
Wikia is a free-to-use site that makes money from advertising. We have a modified experience for viewers using ad blockers

Wikia is not accessible if you've made further modifications. Remove the custom ad blocker rule(s) and the page will load as expected.