아파도 웃을래[1] (Eng: I'll Smile Even if it Hurts) is a single by the remaining members of LADIES' CODE, released on the one-year anniversary of Rise's death. It was the first song released as a trio.
The album includes an instrumental version.
It was first premiered at the "I'm Fine Thank You Rise & EunB Memorial Concert" on August 22nd, 2015 in Tokyo. This was the only time the song was performed live. The digital studio version was released on September 7th. A lyric video of the song was released on YouTube on the same day.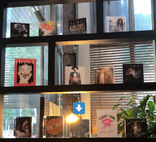 A promo CD exists and can be seen in Sojung and Ashley's rooms during their one of their V LIVE streams.[2] The CD can also be seen in Sojung's Instagram story in the Polaris building, along with other LADIES' CODE and Polaris artists' albums.[3] The physical album was likely only given to members of Polaris Entertainment and will never be available to fans.
Tracklist
아파도 웃을래 (Eng: I'll Smile Even if it Hurts)
아파도 웃을래 (Inst.)
References