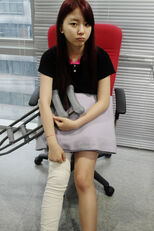 Hate You
[1]
is
LADIES' CODE
's first single.
The song was released on August 6th, 2013.
LADIES' CODE's second EP was originally planned to be released in late July, but it was postponed due to Zuny's sudden knee injury, which happened during a dance practice.[2] Instead, they released Hate You as a single in early August. The EP CODE#02 PRETTY PRETTY was released a month later.

While the album is a digital single, there is a rare Promo CD.
Hate You's Promo CD, because it was never performed on a music show, was only given to radio staff, making its physical version rarer than LADIES' CODE's other digital single, So Wonderful.
Tracklist
Hate You (Inst.)
References