Hate You[1] is LADIES' CODE's first single.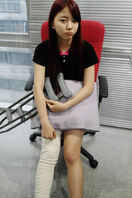 The song was released on August 6th, 2013.
LADIES' CODE's second EP was originally planned to be released in late July, but it was postponed due to Zuny's sudden knee injury, which happened during a dance practice.[2] Instead, they released Hate You as a single to tide their fans over until she recovered.

While the album is categorized as a digital single, limited physical copies, called Promo CDs or Promo Albums, were made. These CDs are given to broadcasting staff on music and radio shows to help promote the single. However, they are usually sold to Korean eBay sellers, who then sell them at high prices due to their rarity. Promo CDs are often but not always autographed, and can be distinguished by a sticker that says "비매", or "Not for sale", and/or the phone number of the entertainment company.
Hate You, because it was never performed on a music show, was only given to radio staff, making its phyiscal version rarer than LADIES' CODE's other digital single, So Wonderful.
Tracklist
Hate You (Inst.)
Gallery
→ see Hate You/Gallery
References
Ad blocker interference detected!
Wikia is a free-to-use site that makes money from advertising. We have a modified experience for viewers using ad blockers

Wikia is not accessible if you've made further modifications. Remove the custom ad blocker rule(s) and the page will load as expected.